Buy Liverpool Tickets
Liverpool Football Tickets -
2019

(

24

Reviews)
Average:

4.5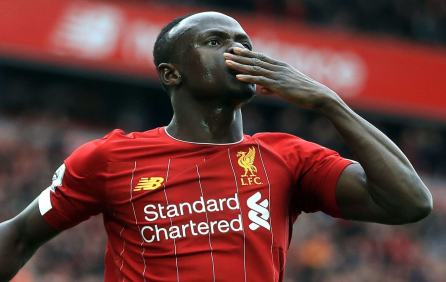 Looking for the best place to buy Liverpool tickets? Look no further! OnlineTicketExpress.com is your best source for all Home and Away Liverpool tickets! The Liverpool Football Club is a professional football club founded in 1892. It is one of the most successful clubs in the history of English football, having won a record 18 First Division titles, seven League Cups and five European Cups. Finding the best deal on tickets isn't easy, but that's what OnlineTicketExpress.com is for! With our ability to get the most coveted seats at popular events, accessing events is just a click away. So don't hesitate – click here to buy tickets today!
Fulfill Your Dream of watching Liverpool live.
Best Liverpool Ticket prices in the market guaranteed!
Don't miss out Liverpool Live Matches.
Liverpool Tickets

Subscribe to Liverpool RSS Feeds
Date
Event
Tournament

Wembley Stadium

,

London

,

United Kingdom

15:00

FA Community Shield

View Tickets

Customer has bought 2 tickets in Category 1 Liverpool Fans

Anfield

,

Liverpool

,

United Kingdom

20:00

Premier League

View Tickets

Vodafone Arena

,

Istanbul

,

Turkey

21:00

UEFA Super Cup

View Tickets

St Mary's

,

Southampton

,

United Kingdom

15:00

Premier League

View Tickets

Anfield

,

Liverpool

,

United Kingdom

15:00

Premier League

View Tickets

Turf Moor

,

Burnley

,

United Kingdom

15:00

Premier League

View Tickets

Anfield

,

Liverpool

,

United Kingdom

15:00

Premier League

View Tickets

Stamford Bridge

,

London

,

United Kingdom

15:00

Premier League

View Tickets

Bramall Lane

,

Sheffield

,

United Kingdom

15:00

Premier League

View Tickets

Anfield

,

Liverpool

,

United Kingdom

15:00

Premier League

View Tickets

Old Trafford

,

Manchester

,

United Kingdom

15:00

Premier League

View Tickets

Anfield

,

Liverpool

,

United Kingdom

15:00

Premier League

View Tickets

Customer has bought 2 tickets in CAT1 Diamond

Villa Park

,

Birmingham

,

United Kingdom

15:00

Premier League

View Tickets

Anfield

,

Liverpool

,

United Kingdom

15:00

Premier League

View Tickets

Selhurst Park

,

London

,

United Kingdom

15:00

Premier League

View Tickets

Anfield

,

Liverpool

,

United Kingdom

15:00

Premier League

View Tickets

Anfield

,

Liverpool

,

United Kingdom

15:00

Premier League

View Tickets

Dean Court

,

Bournemouth

,

United Kingdom

15:00

Premier League

View Tickets

Anfield

,

Liverpool

,

United Kingdom

15:00

Premier League

View Tickets

Queen Elizabeth Olympic Park

,

London

,

United Kingdom

15:00

Premier League

View Tickets

King Power Stadium

,

Leicester

,

United Kingdom

15:00

Premier League

View Tickets

Anfield

,

Liverpool

,

United Kingdom

15:00

Premier League

View Tickets

Anfield

,

Liverpool

,

United Kingdom

15:00

Premier League

View Tickets

Tottenham Hotspur Stadium

,

London

,

United Kingdom

15:00

Premier League

View Tickets

Anfield

,

Liverpool

,

United Kingdom

15:00

Premier League

View Tickets

Customer has bought 6 tickets in CAT1 Silver

Carrow Road

,

Norwich

,

United Kingdom

15:00

Premier League

View Tickets

Anfield

,

Liverpool

,

United Kingdom

15:00

Premier League

View Tickets

Molineux Stadium

,

Wolverhampton

,

United Kingdom

15:00

Premier League

View Tickets

Anfield

,

Liverpool

,

United Kingdom

15:00

Premier League

View Tickets

Vicarage Road

,

Watford

,

United Kingdom

15:00

Premier League

View Tickets

Anfield

,

Liverpool

,

United Kingdom

15:00

Premier League

View Tickets

Goodison Park

,

Liverpool

,

United Kingdom

15:00

Premier League

View Tickets

Anfield

,

Liverpool

,

United Kingdom

15:00

Premier League

View Tickets

Etihad Stadium

,

Manchester

,

United Kingdom

15:00

Premier League

View Tickets

Anfield

,

Liverpool

,

United Kingdom

15:00

Premier League

View Tickets

King Power Stadium

,

Leicester

,

United Kingdom

15:00

Premier League

View Tickets

Anfield

,

Liverpool

,

United Kingdom

15:00

Premier League

View Tickets

Emirates Stadium

,

London

,

United Kingdom

15:00

Premier League

View Tickets

Anfield

,

Liverpool

,

United Kingdom

15:00

Premier League

View Tickets

Villa Park

,

Birmingham

,

United Kingdom

15:00

Premier League

View Tickets
delivered really quickly

Posted 11/03/2017

by

Andrew Turner

Excellent service, tickets delivered really quickly, no hassle whatsoever. Would defo recommend. The price of the tickets were also really reasonable.

Awesome service

Posted 09/25/2017

by

Grace McKenzie

Ticket purchase in online tickets express . Tickets cost vastly more than face value.

Tickets arrived on time

Posted 07/08/2017

by

Elizabeth Booth

Tickets arrived on time no problems in any way.seats provided exceeded my expectations a big thank you to online tickets express.

fab seats

Posted 05/25/2017

by

Paige Simpson

Tickets arrived on time, can't fault the service... fab seats , great match

Great

Posted 01/29/2017

by

Jordan Morris

Excellent overall service

Posted 10/22/2016

by

Alex Barlow

Excellent overall service, good selection of days and timing but astonishingly high prices.But if you don't want to miss something impotrtant to you this is the place to look for.

Tickets were fantastic

Posted 09/12/2016

by

Lola Cross

Tickets were fantastic, just as described but had to pay the price for them. It was worth it but the markup on the tickets is sometimes difficult to accept.

Excellent service

Posted 07/14/2016

by

Dominic Hawkins

Excellent service got the tickets I really wanted. Hassle free. Highly recommended

seats were fantastic

Posted 06/21/2016

by

Jayden Hart

Was a bit nervous re seats but needn't have worried. The seats were fantastic, and we had a really good view of the stage. We had a truly fabulous evening, thank you

arrived safely

Posted 03/22/2016

by

Jade Cooper

Yes a smooth and efficient service, keeping the customer informed and ticket arrived safe and sound in good time

No problem

Posted 01/24/2016

by

Lewis Walters

Not overly priced and tickets came in time for the match. No problems experienced.

amazing

Posted 01/05/2016

by

Katherine Dean

Extremely good service would recommend to anyone. EPL was just amazing.

Very easy to use

Posted 12/28/2015

by

Christopher Fry

Very easy to use. Tickets arrived within a couple of weeks

very professional

Posted 12/17/2015

by

Hollie Howe

I was worried about buying off the web but the whole process could not have been easier and was very professionally managed. Would certainly come to online ticket express first next time

easy to book

Posted 10/29/2015

by

Katherine Crawford

Easy to navigate website and easy to book front row tickets quite a while after release and best of all..... a great night!!!

good price.

Posted 09/05/2015

by

Isaac Peacock

The tickets arrived in plenty of time. Excellent seats at a good price.

really good

Posted 08/13/2015

by

Grace Bailey

The only thing that was bad was the over the top booking fee. Otherwise was really good from ordering the tickets to the event itself.

Brillant

Posted 07/16/2015

by

Louie Hanson

Brillant, no hassle and very well organized. The only problem for me it was too hot in the 02 arenas! Would definitely recommend to family and friends.

outstanding service

Posted 03/03/2015

by

Jessica Mitchell

My expectations were exceeded. A very good value considering outstanding service, pricing, and great seats. The entire process was easy...no problems.

tickets were good

Posted 02/27/2015

by

Henry Townsend

An excellent match and the tickets were good. The only complaint is the difference between the market price and the price I paid. Almost 3 times as much.

excellent

Posted 01/21/2015

by

Paige Marsh

The match was terrific, Tickets were pricey but seats were excellent so little to complain about. Tickets were securely delivered and in time for the match.

It was Brilliant !

Posted 02/27/2013

by

Joanne Handisides

Match: Liverpool v. Swansea - 17.2.2013 I got the tickets earlier than I thought I would get them, we had such a good time. You know, you are worried when you order things online. I was surprised by your customer care service, they called to make sure I've got the tickets. I will definitely gonna use you again. Thank you once again.

The seats were great and with very good view

Posted 02/27/2013

by

Jacqueline Alcock

I booked the tickets for the Liverpool v Swansea match, it was for my son. The seats were great with very good view, we won !!!!! We were very pleased. Thank you OTE.

So Happy !

Posted 01/02/2013

by

darlene

I just wanted to thank you for getting me my tickets. It was great and the tickets were waiting for me when I arrived. darlene stoyka