Premier League

Tickets
Buy Premier League Football Tickets 2018/2019

(

144

Reviews)
Average:

4.56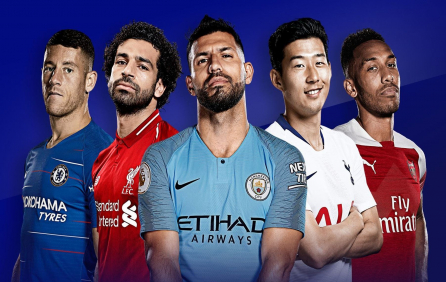 Looking for the best deal on Barclays Premier League events tickets? OnlineTicketExpress.com is the right place for you! The Barclays Premier League, is an English professional league for association football clubs, At the top of the English football league system, it is the country's primary football competition. Contested by 20 clubs, it operates on a system of promotion and relegation with the Football League. Premium League events tickets are hard to come by, but when you buy Premier League events tickets through OnlineTicketExpress.com, our worldwide reach and ability to access the most coveted seats at popular events, guarantees you premium seats and the best value for money. So what are you waiting for? Buy Premier League events tickets now.
Premier League Tickets Available! Order Now.
Large Selection of Premier League Tickets.
Premier League Tickets are in High Demand! Book Now.
Premier League Tickets

Subscribe to Premier League RSS Feeds
Date
Event
Tournament

Stamford Bridge

,

London

,

United Kingdom

12:30

Premier League

View Tickets

Etihad Stadium

,

Manchester

,

United Kingdom

15:00

Premier League

View Tickets

Queen Elizabeth Olympic Park

,

London

,

United Kingdom

15:00

Premier League

View Tickets

Kirklees Stadium

,

Huddersfield

,

United Kingdom

17:30

Premier League

View Tickets

Goodison Park

,

Liverpool

,

United Kingdom

16:00

Premier League

View Tickets

Emirates Stadium

,

London

,

United Kingdom

20:00

Premier League

View Tickets

Craven Cottage

,

London

,

United Kingdom

15:00

Premier League

View Tickets

Anfield

,

Liverpool

,

United Kingdom

15:00

Premier League

View Tickets

King Power Stadium

,

Leicester

,

United Kingdom

17:30

Premier League

View Tickets

Selhurst Park

,

London

,

United Kingdom

13:30

Premier League

View Tickets

Turf Moor

,

Burnley

,

United Kingdom

13:30

Premier League

View Tickets

Old Trafford

,

Manchester

,

United Kingdom

16:00

Premier League

View Tickets

Wembley Stadium

,

London

,

United Kingdom

20:00

Premier League

View Tickets

Dean Court

,

Bournemouth

,

United Kingdom

12:30

Premier League

View Tickets

Queen Elizabeth Olympic Park

,

London

,

United Kingdom

15:00

Premier League

View Tickets

Etihad Stadium

,

Manchester

,

United Kingdom

15:00

Premier League

View Tickets

Goodison Park

,

Liverpool

,

United Kingdom

15:00

Premier League

View Tickets

Emirates Stadium

,

London

,

United Kingdom

17:30

Premier League

View Tickets

Molineux Stadium

,

Wolverhampton

,

United Kingdom

19:45

Premier League

View Tickets

Stamford Bridge

,

London

,

United Kingdom

16:00

Premier League

View Tickets

Kirklees Stadium

,

Huddersfield

,

United Kingdom

15:00

Premier League

View Tickets

King Power Stadium

,

Leicester

,

United Kingdom

15:00

Premier League

View Tickets

Selhurst Park

,

London

,

United Kingdom

17:30

Premier League

View Tickets

Anfield

,

Liverpool

,

United Kingdom

12:00

Premier League

View Tickets

Stamford Bridge

,

London

,

United Kingdom

14:15

Premier League

View Tickets

Etihad Stadium

,

Manchester

,

United Kingdom

16:30

Premier League

View Tickets

Emirates Stadium

,

London

,

United Kingdom

16:30

Premier League

View Tickets

Goodison Park

,

Liverpool

,

United Kingdom

15:00

Premier League

View Tickets

Vicarage Road

,

Watford

,

United Kingdom

15:00

Premier League

View Tickets

Old Trafford

,

Manchester

,

United Kingdom

15:00

Premier League

View Tickets

Craven Cottage

,

London

,

United Kingdom

15:00

Premier League

View Tickets

Queen Elizabeth Olympic Park

,

London

,

United Kingdom

15:00

Premier League

View Tickets

Wembley Stadium

,

London

,

United Kingdom

17:30

Premier League

View Tickets

Dean Court

,

Bournemouth

,

United Kingdom

13:30

Premier League

View Tickets

Etihad Stadium

,

Manchester

,

United Kingdom

15:00

Premier League

View Tickets

King Power Stadium

,

Leicester

,

United Kingdom

15:00

Premier League

View Tickets

Anfield

,

Liverpool

,

United Kingdom

15:00

Premier League

View Tickets

Selhurst Park

,

London

,

United Kingdom

15:00

Premier League

View Tickets

St. James Park

,

Newcastle

,

United Kingdom

15:00

Premier League

View Tickets

St Mary's

,

Southampton

,

United Kingdom

15:00

Premier League

View Tickets

Stamford Bridge

,

London

,

United Kingdom

12:00

Premier League

View Tickets

Emirates Stadium

,

London

,

United Kingdom

15:00

Premier League

View Tickets

Queen Elizabeth Olympic Park

,

London

,

United Kingdom

19:45

Premier League

View Tickets

Vicarage Road

,

Watford

,

United Kingdom

19:45

Premier League

View Tickets

Molineux Stadium

,

Wolverhampton

,

United Kingdom

19:45

Premier League

View Tickets

Craven Cottage

,

London

,

United Kingdom

19:45

Premier League

View Tickets

Turf Moor

,

Burnley

,

United Kingdom

19:45

Premier League

View Tickets

Old Trafford

,

Manchester

,

United Kingdom

20:00

Premier League

View Tickets

Goodison Park

,

Liverpool

,

United Kingdom

19:45

Premier League

View Tickets

Tottenham Hotspur Stadium

,

London

,

United Kingdom

20:00

Premier League

View Tickets

Queen Elizabeth Olympic Park

,

London

,

United Kingdom

15:00

Premier League

View Tickets

Stamford Bridge

,

London

,

United Kingdom

15:00

Premier League

View Tickets

Old Trafford

,

Manchester

,

United Kingdom

15:00

Premier League

View Tickets

Emirates Stadium

,

London

,

United Kingdom

15:00

Premier League

View Tickets

Goodison Park

,

Liverpool

,

United Kingdom

15:00

Premier League

View Tickets

Dean Court

,

Bournemouth

,

United Kingdom

15:00

Premier League

View Tickets

King Power Stadium

,

Leicester

,

United Kingdom

15:00

Premier League

View Tickets

Craven Cottage

,

London

,

United Kingdom

15:00

Premier League

View Tickets

Etihad Stadium

,

Manchester

,

United Kingdom

15:00

Premier League

View Tickets

Falmer Stadium

,

Brighton & Hove

,

United Kingdom

15:00

Premier League

View Tickets

St Mary's

,

Southampton

,

United Kingdom

15:00

Premier League

View Tickets

Tottenham Hotspur Stadium

,

London

,

United Kingdom

15:00

Premier League

View Tickets

Anfield

,

Liverpool

,

United Kingdom

16:00

Premier League

View Tickets

Customer has bought 3 tickets in CAT1 Crystal

Emirates Stadium

,

London

,

United Kingdom

15:00

Premier League

View Tickets

Queen Elizabeth Olympic Park

,

London

,

United Kingdom

15:00

Premier League

View Tickets

Stamford Bridge

,

London

,

United Kingdom

15:00

Premier League

View Tickets

Etihad Stadium

,

Manchester

,

United Kingdom

15:00

Premier League

View Tickets

Molineux Stadium

,

Wolverhampton

,

United Kingdom

15:00

Premier League

View Tickets

Goodison Park

,

Liverpool

,

United Kingdom

15:00

Premier League

View Tickets

Cardiff City Stadium

,

Cardiff

,

United Kingdom

15:00

Premier League

View Tickets

Falmer Stadium

,

Brighton & Hove

,

United Kingdom

13:30

Premier League

View Tickets

Vicarage Road

,

Watford

,

United Kingdom

15:00

Premier League

View Tickets

Turf Moor

,

Burnley

,

United Kingdom

15:00

Premier League

View Tickets

Selhurst Park

,

London

,

United Kingdom

15:00

Premier League

View Tickets

Old Trafford

,

Manchester

,

United Kingdom

15:00

Premier League

View Tickets

Tottenham Hotspur Stadium

,

London

,

United Kingdom

15:00

Premier League

View Tickets

Anfield

,

Liverpool

,

United Kingdom

15:00

Premier League

View Tickets

Craven Cottage

,

London

,

United Kingdom

15:00

Premier League

View Tickets

King Power Stadium

,

Leicester

,

United Kingdom

15:00

Premier League

View Tickets

St Mary's

,

Southampton

,

United Kingdom

15:00

Premier League

View Tickets

Old Trafford

,

Manchester

,

United Kingdom

15:00

Premier League

View Tickets

Anfield

,

Liverpool

,

United Kingdom

15:00

Premier League

View Tickets

King Power Stadium

,

Leicester

,

United Kingdom

15:00

Premier League

View Tickets

Turf Moor

,

Burnley

,

United Kingdom

15:00

Premier League

View Tickets

Selhurst Park

,

London

,

United Kingdom

15:00

Premier League

View Tickets

Falmer Stadium

,

Brighton & Hove

,

United Kingdom

15:00

Premier League

View Tickets

Tottenham Hotspur Stadium

,

London

,

United Kingdom

15:00

Premier League

View Tickets

St Mary's

,

Southampton

,

United Kingdom

15:00

Premier League

View Tickets

Craven Cottage

,

London

,

United Kingdom

15:00

Premier League

View Tickets

Queen Elizabeth Olympic Park

,

London

,

United Kingdom

15:00

Premier League

View Tickets

St. James Park

,

Newcastle

,

United Kingdom

15:00

Premier League

View Tickets

Emirates Stadium

,

London

,

United Kingdom

15:00

Premier League

View Tickets

Etihad Stadium

,

Manchester

,

United Kingdom

15:00

Premier League

View Tickets

Stamford Bridge

,

London

,

United Kingdom

15:00

Premier League

View Tickets

Goodison Park

,

Liverpool

,

United Kingdom

15:00

Premier League

View Tickets

Cardiff City Stadium

,

Cardiff

,

United Kingdom

15:00

Premier League

View Tickets

King Power Stadium

,

Leicester

,

United Kingdom

15:00

Premier League

View Tickets

Falmer Stadium

,

Brighton & Hove

,

United Kingdom

15:00

Premier League

View Tickets

Stamford Bridge

,

London

,

United Kingdom

15:00

Premier League

View Tickets

Tottenham Hotspur Stadium

,

London

,

United Kingdom

15:00

Premier League

View Tickets

Etihad Stadium

,

Manchester

,

United Kingdom

15:00

Premier League

View Tickets

Goodison Park

,

Liverpool

,

United Kingdom

15:00

Premier League

View Tickets

Queen Elizabeth Olympic Park

,

London

,

United Kingdom

15:00

Premier League

View Tickets

Old Trafford

,

Manchester

,

United Kingdom

15:00

Premier League

View Tickets

Dean Court

,

Bournemouth

,

United Kingdom

15:00

Premier League

View Tickets

Anfield

,

Liverpool

,

United Kingdom

15:00

Premier League

View Tickets

Craven Cottage

,

London

,

United Kingdom

15:00

Premier League

View Tickets

Emirates Stadium

,

London

,

United Kingdom

15:00

Premier League

View Tickets

Kirklees Stadium

,

Huddersfield

,

United Kingdom

15:00

Premier League

View Tickets

St Mary's

,

Southampton

,

United Kingdom

15:00

Premier League

View Tickets

Old Trafford

,

Manchester

,

United Kingdom

15:00

Premier League

View Tickets

Molineux Stadium

,

Wolverhampton

,

United Kingdom

15:00

Premier League

View Tickets

Kirklees Stadium

,

Huddersfield

,

United Kingdom

15:00

Premier League

View Tickets

Craven Cottage

,

London

,

United Kingdom

15:00

Premier League

View Tickets

Emirates Stadium

,

London

,

United Kingdom

19:45

Premier League

View Tickets

Dean Court

,

Bournemouth

,

United Kingdom

19:45

Premier League

View Tickets

St. James Park

,

Newcastle

,

United Kingdom

15:00

Premier League

View Tickets

Tottenham Hotspur Stadium

,

London

,

United Kingdom

15:00

Premier League

View Tickets

Anfield

,

Liverpool

,

United Kingdom

20:00

Premier League

View Tickets

Etihad Stadium

,

Manchester

,

United Kingdom

15:00

Premier League

View Tickets

Stamford Bridge

,

London

,

United Kingdom

15:00

Premier League

View Tickets

Goodison Park

,

Liverpool

,

United Kingdom

15:00

Premier League

View Tickets

Queen Elizabeth Olympic Park

,

London

,

United Kingdom

15:00

Premier League

View Tickets

Tottenham Hotspur Stadium

,

London

,

United Kingdom

15:00

Premier League

View Tickets

King Power Stadium

,

Leicester

,

United Kingdom

15:00

Premier League

View Tickets

Etihad Stadium

,

Manchester

,

United Kingdom

15:00

Premier League

View Tickets

Anfield

,

Liverpool

,

United Kingdom

15:00

Premier League

View Tickets

Vicarage Road

,

Watford

,

United Kingdom

15:00

Premier League

View Tickets

Craven Cottage

,

London

,

United Kingdom

15:00

Premier League

View Tickets

Kirklees Stadium

,

Huddersfield

,

United Kingdom

15:00

Premier League

View Tickets

Selhurst Park

,

London

,

United Kingdom

15:00

Premier League

View Tickets

Tottenham Hotspur Stadium

,

London

,

United Kingdom

15:00

Premier League

View Tickets

Turf Moor

,

Burnley

,

United Kingdom

15:00

Premier League

View Tickets

Goodison Park

,

Liverpool

,

United Kingdom

15:00

Premier League

View Tickets

Queen Elizabeth Olympic Park

,

London

,

United Kingdom

15:00

Premier League

View Tickets

King Power Stadium

,

Leicester

,

United Kingdom

15:00

Premier League

View Tickets

Old Trafford

,

Manchester

,

United Kingdom

15:00

Premier League

View Tickets

Customer has bought 3 tickets in CAT1 Silver

Emirates Stadium

,

London

,

United Kingdom

15:00

Premier League

View Tickets

Stamford Bridge

,

London

,

United Kingdom

15:00

Premier League

View Tickets

King Power Stadium

,

Leicester

,

United Kingdom

15:00

Premier League

View Tickets

Selhurst Park

,

London

,

United Kingdom

15:00

Premier League

View Tickets

Cardiff City Stadium

,

Cardiff

,

United Kingdom

15:00

Premier League

View Tickets

Emirates Stadium

,

London

,

United Kingdom

19:45

Premier League

View Tickets

Etihad Stadium

,

Manchester

,

United Kingdom

15:00

Premier League

View Tickets

Stamford Bridge

,

London

,

United Kingdom

19:45

Premier League

View Tickets

Customer has bought 4 tickets in Category 1

Anfield

,

Liverpool

,

United Kingdom

20:00

Premier League

View Tickets

Dean Court

,

Bournemouth

,

United Kingdom

15:00

Premier League

View Tickets

Tottenham Hotspur Stadium

,

London

,

United Kingdom

15:00

Premier League

View Tickets

Goodison Park

,

Liverpool

,

United Kingdom

15:00

Premier League

View Tickets

Craven Cottage

,

London

,

United Kingdom

15:00

Premier League

View Tickets

Old Trafford

,

Manchester

,

United Kingdom

15:00

Premier League

View Tickets

Queen Elizabeth Olympic Park

,

London

,

United Kingdom

15:00

Premier League

View Tickets

Cardiff City Stadium

,

Cardiff

,

United Kingdom

15:00

Premier League

View Tickets

St. James Park

,

Newcastle

,

United Kingdom

15:00

Premier League

View Tickets

King Power Stadium

,

Leicester

,

United Kingdom

15:00

Premier League

View Tickets

Anfield

,

Liverpool

,

United Kingdom

15:00

Premier League

View Tickets

Emirates Stadium

,

London

,

United Kingdom

15:00

Premier League

View Tickets

Customer has bought 2 tickets in CAT1 Gold

St Mary's

,

Southampton

,

United Kingdom

15:00

Premier League

View Tickets

Etihad Stadium

,

Manchester

,

United Kingdom

15:00

Premier League

View Tickets

Stamford Bridge

,

London

,

United Kingdom

15:00

Premier League

View Tickets

Tottenham Hotspur Stadium

,

London

,

United Kingdom

15:00

Premier League

View Tickets

Goodison Park

,

Liverpool

,

United Kingdom

15:00

Premier League

View Tickets

Queen Elizabeth Olympic Park

,

London

,

United Kingdom

15:00

Premier League

View Tickets

Molineux Stadium

,

Wolverhampton

,

United Kingdom

15:00

Premier League

View Tickets

Craven Cottage

,

London

,

United Kingdom

15:00

Premier League

View Tickets

Old Trafford

,

Manchester

,

United Kingdom

15:00

Premier League

View Tickets

Anfield

,

Liverpool

,

United Kingdom

15:00

Premier League

View Tickets

Queen Elizabeth Olympic Park

,

London

,

United Kingdom

15:00

Premier League

View Tickets

Craven Cottage

,

London

,

United Kingdom

15:00

Premier League

View Tickets

King Power Stadium

,

Leicester

,

United Kingdom

15:00

Premier League

View Tickets

Cardiff City Stadium

,

Cardiff

,

United Kingdom

15:00

Premier League

View Tickets

Emirates Stadium

,

London

,

United Kingdom

15:00

Premier League

View Tickets

Customer has bought 6 tickets in Category 1

Old Trafford

,

Manchester

,

United Kingdom

15:00

Premier League

View Tickets

Tottenham Hotspur Stadium

,

London

,

United Kingdom

15:00

Premier League

View Tickets

Etihad Stadium

,

Manchester

,

United Kingdom

15:00

Premier League

View Tickets

St Mary's

,

Southampton

,

United Kingdom

15:00

Premier League

View Tickets

Molineux Stadium

,

Wolverhampton

,

United Kingdom

15:00

Premier League

View Tickets

Stamford Bridge

,

London

,

United Kingdom

15:00

Premier League

View Tickets

Goodison Park

,

Liverpool

,

United Kingdom

15:00

Premier League

View Tickets

Vicarage Road

,

Watford

,

United Kingdom

15:00

Premier League

View Tickets

Tottenham Hotspur Stadium

,

London

,

United Kingdom

15:00

Premier League

View Tickets

Selhurst Park

,

London

,

United Kingdom

15:00

Premier League

View Tickets

Craven Cottage

,

London

,

United Kingdom

15:00

Premier League

View Tickets

King Power Stadium

,

Leicester

,

United Kingdom

15:00

Premier League

View Tickets

Old Trafford

,

Manchester

,

United Kingdom

15:00

Premier League

View Tickets

Anfield

,

Liverpool

,

United Kingdom

15:00

Premier League

View Tickets

Emirates Stadium

,

London

,

United Kingdom

15:00

Premier League

View Tickets

Goodison Park

,

Liverpool

,

United Kingdom

15:00

Premier League

View Tickets

Queen Elizabeth Olympic Park

,

London

,

United Kingdom

15:00

Premier League

View Tickets

Cardiff City Stadium

,

Cardiff

,

United Kingdom

15:00

Premier League

View Tickets

Etihad Stadium

,

Manchester

,

United Kingdom

15:00

Premier League

View Tickets

Stamford Bridge

,

London

,

United Kingdom

15:00

Premier League

View Tickets

King Power Stadium

,

Leicester

,

United Kingdom

15:00

Premier League

View Tickets

Turf Moor

,

Burnley

,

United Kingdom

15:00

Premier League

View Tickets

Old Trafford

,

Manchester

,

United Kingdom

15:00

Premier League

View Tickets

Tottenham Hotspur Stadium

,

London

,

United Kingdom

15:00

Premier League

View Tickets

Anfield

,

Liverpool

,

United Kingdom

15:00

Premier League

View Tickets

Selhurst Park

,

London

,

United Kingdom

15:00

Premier League

View Tickets

Craven Cottage

,

London

,

United Kingdom

15:00

Premier League

View Tickets

Goodison Park

,

Liverpool

,

United Kingdom

15:00

Premier League

View Tickets

Queen Elizabeth Olympic Park

,

London

,

United Kingdom

15:00

Premier League

View Tickets

Emirates Stadium

,

London

,

United Kingdom

15:00

Premier League

View Tickets

St James Park, Exeter

,

Exeter

,

United Kingdom

15:00

Premier League

View Tickets

Etihad Stadium

,

Manchester

,

United Kingdom

15:00

Premier League

View Tickets

Stamford Bridge

,

London

,

United Kingdom

15:00

Premier League

View Tickets

Kirklees Stadium

,

Huddersfield

,

United Kingdom

15:00

Premier League

View Tickets

Dean Court

,

Bournemouth

,

United Kingdom

15:00

Premier League

View Tickets

Craven Cottage

,

London

,

United Kingdom

15:00

Premier League

View Tickets

King Power Stadium

,

Leicester

,

United Kingdom

15:00

Premier League

View Tickets

Old Trafford

,

Manchester

,

United Kingdom

15:00

Premier League

View Tickets

Anfield

,

Liverpool

,

United Kingdom

15:00

Premier League

View Tickets

Vicarage Road

,

Watford

,

United Kingdom

15:00

Premier League

View Tickets

Tottenham Hotspur Stadium

,

London

,

United Kingdom

15:00

Premier League

View Tickets

Falmer Stadium

,

Brighton & Hove

,

United Kingdom

15:00

Premier League

View Tickets

Selhurst Park

,

London

,

United Kingdom

15:00

Premier League

View Tickets

Turf Moor

,

Burnley

,

United Kingdom

15:00

Premier League

View Tickets