Champions League

Tickets
Buy Champions League Football Tickets 2018/2019

(

188

Reviews)
Average:

4.56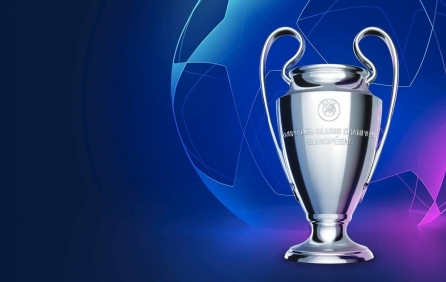 The UEFA Champions League is an annual club football competition between the best European clubs. It is the most prestigious club tournament in European football played by the national league champions. The UEFA Champions League final is the most watched annual sporting event worldwide. The competition started in 1955 and was rebranded in 1992. At the present time the UEFA Champions League begins in July with three knockout qualifying rounds and a play-off round. The 10 surviving teams enter the group stage, joining 22 other teams qualified in advance. The 32 teams are drawn into eight groups of four teams and play each other in a double round system. The eight group winners and eight runners-up proceed to the knockout phase that culminates with the final match in May.
Get Best Value Champions League Tickets.
Join the Excitement, Experience The Adrenaline On The Field.
Enjoy the Unique Electrifying Atmosphere.
Champions League Tickets

Subscribe to Champions League RSS Feeds
Date
Event
Tournament

Old Trafford

,

Manchester

,

United Kingdom

21:00

Champions League

View Tickets

Customer has bought 2 tickets in CAT1 Gold

Santiago Bernabeu

,

Madrid

,

Spain

21:00

Champions League

View Tickets

Rhein-Neckar Arena

,

Sinsheim

,

Germany

21:00

Champions League

View Tickets

Stadio Olimpico Rome

,

Rome

,

Italy

21:00

Champions League

View Tickets

Johan Cruijff Arena

,

Amsterdam

,

Netherlands

21:00

Champions League

View Tickets

Metalist Stadium

,

Kharkiv

,

Ukraine

22:00

Champions League

View Tickets

Philips Stadion

,

Eindhoven

,

Netherlands

18:55

Champions League

View Tickets

Anfield

,

Liverpool

,

United Kingdom

20:00

Champions League

View Tickets

Signal Iduna Park

,

Dortmund

,

Germany

21:00

Champions League

View Tickets

Parc Des Princes

,

Paris

,

France

21:00

Champions League

View Tickets

Camp Nou

,

Barcelona

,

Spain

21:00

Champions League

View Tickets

Stade Louis II

,

Fontvieille

,

Monaco

18:55

Champions League

View Tickets

Wembley Stadium

,

London

,

United Kingdom

20:00

Champions League

View Tickets

Estadio do Dragao

,

Porto

,

Portugal

21:00

Champions League

View Tickets

Stadio San Paolo

,

Napoli

,

Italy

21:00

Champions League

View Tickets

Wanda Metropolitano

,

Madrid

,

Spain

21:00

Champions League

View Tickets

Veltins Arena

,

Gelsenkirchen

,

Germany

21:00

Champions League

View Tickets

Stadio Giuseppe Meazza (San Siro)

,

Milan

,

Italy

21:00

Champions League

View Tickets

Etihad Stadium

,

Manchester

,

United Kingdom

20:00

Champions League

View Tickets

Da Luz

,

Lisbon

,

Portugal

21:00

Champions League

View Tickets

Juventus Stadium

,

Turin

,

Italy

21:00

Champions League

View Tickets

Allianz Arena

,

Munich

,

Germany

21:00

Champions League

View Tickets

Mestalla

,

Valencia

,

Spain

21:45

Champions League

View Tickets

Old Trafford

,

Manchester

,

United Kingdom

20:00

Champions League

View Tickets

Groupama Stadium

,

Lyon

,

France

21:00

Champions League

View Tickets

Stadio Olimpico Rome

,

Rome

,

Italy

21:00

Champions League

View Tickets

Juventus Stadium

,

Turin

,

Italy

21:00

Champions League

View Tickets

Allianz Arena

,

Munich

,

Germany

21:00

Champions League

View Tickets

Wanda Metropolitano

,

Madrid

,

Spain

18:55

Champions League

View Tickets

Wembley Stadium

,

London

,

United Kingdom

20:00

Champions League

View Tickets

Customer has bought 4 tickets in CAT1 Gold

Stadio San Paolo

,

Napoli

,

Italy

21:00

Champions League

View Tickets

Estadio do Dragao

,

Porto

,

Portugal

21:00

Champions League

View Tickets

Parc Des Princes

,

Paris

,

France

21:00

Champions League

View Tickets

Signal Iduna Park

,

Dortmund

,

Germany

21:00

Champions League

View Tickets

Philips Stadion

,

Eindhoven

,

Netherlands

21:00

Champions League

View Tickets

Veltins Arena

,

Gelsenkirchen

,

Germany

18:55

Champions League

View Tickets

Anfield

,

Liverpool

,

United Kingdom

20:00

Champions League

View Tickets

Camp Nou

,

Barcelona

,

Spain

21:00

Champions League

View Tickets

Stade Louis II

,

Fontvieille

,

Monaco

21:00

Champions League

View Tickets

Stadio Giuseppe Meazza (San Siro)

,

Milan

,

Italy

21:00

Champions League

View Tickets

Santiago Bernabeu

,

Madrid

,

Spain

18:55

Champions League

View Tickets

Etihad Stadium

,

Manchester

,

United Kingdom

20:00

Champions League

View Tickets

Da Luz

,

Lisbon

,

Portugal

21:00

Champions League

View Tickets

Mestalla

,

Valencia

,

Spain

21:00

Champions League

View Tickets

Johan Cruijff Arena

,

Amsterdam

,

Netherlands

21:00

Champions League

View Tickets

Wanda Metropolitano

,

Madrid

,

Spain

21:45

Champions League

View Tickets

Customer has bought 3 tickets in CAT1 Gold